Learning Tools
Gale Adds Collaboration Feature for Digital Humanities Projects
By Kate Lucariello
02/15/23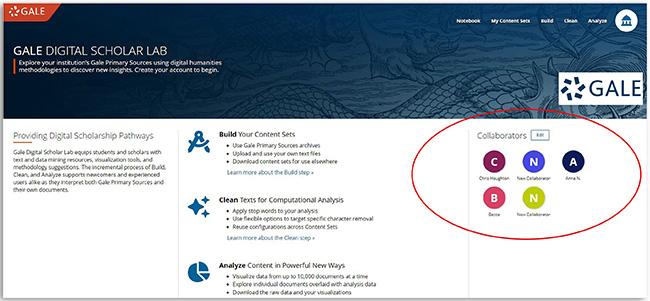 Gale, part of the Cengage Group ed tech company, has added Gale Digital Scholar Lab: Groups as a new real-time collaborative tool within its cloud-based Scholar Lab platform to support Digital Humanities (DH) project-based learning. The new functionality has two virtual shared features — Workspaces and Notebook — to allow students to work together. Instructors can oversee, support, and help their students' collaborative projects stay on track.
Workspaces enables students to learn how a DH project works. Students will be able to:
Create groups and add or remove collaborators;
See project resources collaborators have added;
Create new content sets and add or remove content at the same time or later;
Share and view visualizations among the group; and
Interact with other group members' content sets, clean configurations, and analyses.
Notebook supports and encourages good research methodology. Students will be able to:
Create notes on the status of content sets, visualizations, and clean configurations without leaving the workflow;
Build data analysis and reporting skills;
Include images and links to notes to support users' analyses;
View notes from the entire group together;
Filter and search notes for specific information, including the note's author and date; and
Provide students with support materials, resources, and feedback to guide their project-based learning.
"We recognize the value of project-based learning, especially in the field of digital humanities," said Seth Cayley, vice president of global academic product at Gale. "Digital humanities instructors and students will be able to work together efficiently to create the visuals, data, and content sets they need to take a project from start to finish. Not to mention, they will be learning important workplace skills like collaboration and project management by using the new features."
Gale Digital Scholar Lab maintains digital primary source materials for humanities analysis and visualization to solve common challenges currently facing researchers in digital humanities. Gale provides libraries with original and curated content, as well as modern research tools and technology. For more than 65 years, Gale has partnered with libraries around the world to empower the discovery of knowledge and insights.