Power Management
Eaton Intros G3 Universal Input Rack PDU Outlet with Metering, Monitoring, Switching
By Kristal Kuykendall
05/11/23
Power management provider Eaton has introduced a G3 Universal Input Rack PDU with dynamic C39 outlets and global deployment capabilities, adaptable to a wide variety of plugs, input cords, and voltage requirements, according to a news release.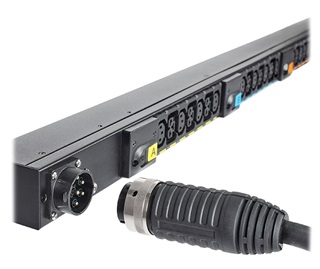 The G3 UPDU adds innovative features aimed to meet the most diverse data center rack power needs, Eaton said, by accommodating rack equipment with a broad range of power requirements.
Key features of the G3 UPDU, verbatim from Eaton's announcement, include: 

Supports 5 kVA single-phase through 23 kVA three-phase power and can be paired with any one of 12 detachable input cords with 12 different plugs

C39 outlets that accommodate both C14 and C20 plugs

Meets industry standards used all over the world, meaning organizations could implement a single PDU chassis regardless of their locations, by deploying it using the input power cables appropriate for the voltage requirements at each location 

Tool-less mounting buttons with multiple mounting options to fit different rack layouts

Provides metering, monitoring, and switching at the outlet level for granular power data and precision control of power delivery 

Integrates with Eaton's Brightlayer Data Centers suite and can be managed via web browser or SNMP integration into DCIM 

High-density design fits 42 evenly distributed outlets on a 42U chassis 

Hot-swappable eNMC (ePDU Network Management and Control) module can be removed without interrupting power to the PDU 
Find the full specifications for the G3 UPDU and locate a seller at Eaton.com.
Kristal Kuykendall is editor, 1105 Media Education Group. She can
be reached at [email protected].