Virtual Reality
Dreamscape Learn Brings Ed Tech Adviser on as CEO for New $20 Million Venture
By Kate Lucariello
02/06/23
Dreamscape Immersive, which has partnered with Arizona State University (ASU) to expand its new $20 million Series A STEM education virtual reality (VR) program Dreamscape Learn, has brought on ed tech veteran Josh Reibel as CEO. Reibel has been serving as an adviser to Dreamscape and will lead the company's effort to integrate VR tools into both K–12 and higher education.
Reibel was founding president of Wireless Generation, which pioneered the use of mobile assessment, and brought the company to $100 million in revenue. After selling the company, which was rebranded as Amplify Education, Reibel continued on as CEO of Amplify Learning, developing a digital curriculum there. Before joining Dreamscape Learn, Reibel also served as CEO of Sokanu, a career platform for students and other learners.
Reibel graduated from Harvard University, first teaching high school, then serving as the Ben D. Wood Fellow in Communications, Computing and Technology at Teachers College, Columbia University and as associate director of the Institute for Learning Technologies. He holds a Master of Education degree from Columbia University Teachers' College.
Michael Crow, president of ASU, has known Reibel since early in his career, when they collaborated at Columbia. "He's been a tireless champion of pedagogically centered technology that can help to address long standing equity gaps in education," Crow said. "He is the obvious choice to bring Dreamscape Learn to the field."
"As an executive whose career spans classroom teaching, university research and development, and highly successful ventures in both K–12 and higher education, Josh brings both the savvy of a seasoned corporate leader and a deep appreciation of what it takes to capture the imagination of students and bring learning to life," said Walter Parkes, founder of Dreamscape Immersive. "Over the last several months, Josh has been an invaluable adviser to Dreamscape, and we're thrilled to have him now at the helm. His experience reflects a belief that putting technology in the hands of educators can drive powerful outcomes."
Reibel is excited to take on the challenge of bringing immersive VR storytelling to education. "The first time I experienced Dreamscape Learn, I saw the immediate opportunity for an entirely new curricular experience that can captivate students and power deep learning," he said. "Dreamscape Learn is combining cinematic narrative, advanced pedagogy designed by world-class subject-matter experts, and groundbreaking VR technology in a unique way that enables faculty and schools to offer transformational learning experiences that are as rigorous as they are motivating. I'm thrilled to be joining the team to bring ASU and Dreamscape's collaboration to the field."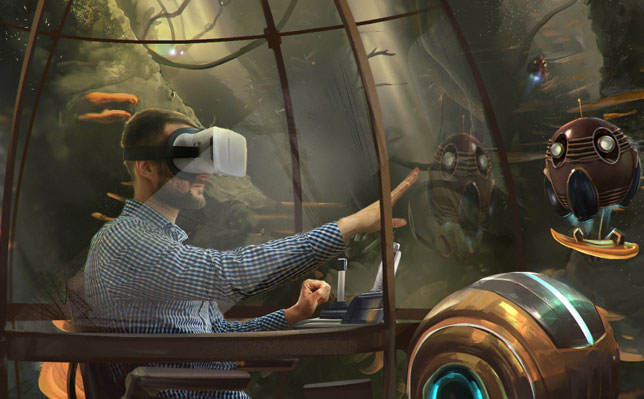 Rendering of the Dreamscape Learn VR lab experience (Image courtesy of Dreamscape Learn)
For more information about Dreamscape Learn and ASU's pilot VR-enabled biology lab, visit the ASU News story.