Generative AI
Survey: College Students Both Excited and Concerned about AI Tools
By Kristal Kuykendall
09/13/23
A May 2023 survey of Gen Z students conducted by Touchstone Research shows how students perceive generative artificial intelligence, how they use it, and what they're using the tools for — and college students are more likely to be using the tools for school work than younger students.
For the "Generative AI Through the Eyes of Gen Z" study, Touchstone Research surveyed 931 students from middle school to college age, the firm said in a news release. The sample included equal numbers of male and female students and "representative proportions" of various ethnic groups, Touchstone said.
Fewer than two-thirds of respondents said they were "aware" of any generative AI tool.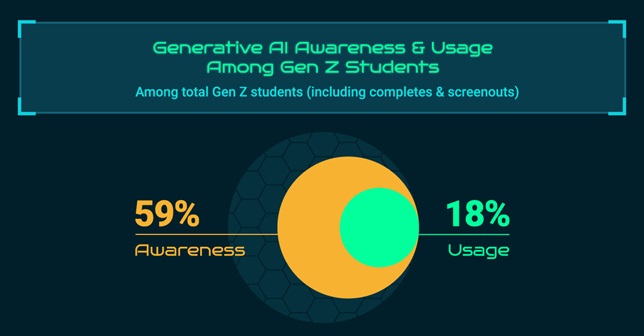 Just under a fifth of students surveyed, or 18%, indicated they have used any generative AI tool.
Among students who indicated they have used generative AI tools, 75% said they'd used them to create art, images, videos and music.
When asked, secondary students and post-secondary students reported similar feelings about generative AI, with only one difference: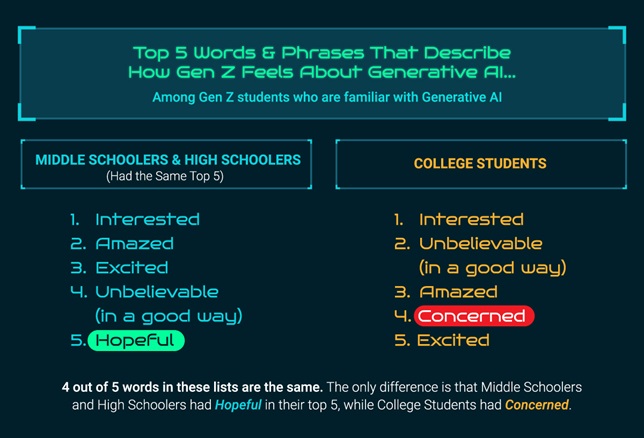 Students at every level generally felt the same about the potential impacts — and abuses — of generative AI:
86% agreed that "generative AI is a big deal"

77% agreed that "generative AI will have a big impact on their life"

50% agreed that "government should regulate or limit generative AI"
Gen Z students who indicated they are familiar with generative AI were asked how it could benefit humanity. The top five answers were:
Help people with disabilities by making it easier for them to do things on their own

Improve healthcare by helping doctors find diseases faster and more accurately

Make more knowledge available to more people

Accelerate scientific discoveries, like finding cures for diseases or exploring outer space

Help us talk to people from different countries by instantly translating languages
Learn more and view the full survey results at the Touchstone Research website.
Kristal Kuykendall is editor, 1105 Media Education Group. She can
be reached at [email protected].